"FIG. 85. -- CYCAS REVOLUTA.
Height 30 inches; age 45 years. Sold for $40."




"FIG. 86. -- LARIX LEPTOLEPIS (LARCH).
Trained as a Japanese Junk. Height, together
with vase, 40 inches; length over all,
36 inches. Sold for $24."




"Japanese Dwarf Trees, Sell for High Prices." (1898):

"On May 26 and 27 there was a remarkable sale of these curious Japanese productions in New York City. Some 500 were sold, and realized about $10,000.
"This is the first sale of these curious nananized trees in this city. The northeast of Japan is famous for these arboreal curios where for centuries it has been the proper thing for private people to have a few of these trees growing around and about their dwellings, forming miniature patches of exquisite landscape. True samples of such were seen at the World's Fair in 1893, in the horticultural building, and since that time there has been an increased desire for introducing these subjects into this country. Several Japanese agencies have opened up and others that were in existence before have launched out considerably, and big efforts on all hands are being made to popularize the trade. Doubtless, this exhibition and sale will give an enormous impetus to the business, but we are informed by Mr. B. Suzuki that the supply of these peculiarly trained conifers, except Larch, is very limited, perhaps not more than 2,000 plants all told can now he found in the native home districts, but of the Larix, Maples, and the curiously trained Davallla bullata, there is an ample supply.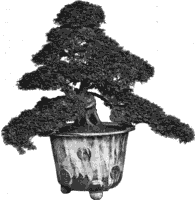 "FIG 87. -- THUYA OBTUSA. (JAPANESE NAME CHABO HIBA.)
Height of plant, 42 Inches; age, 215 years. Sold to E. V. Macy, Wallawalla, N. Y., for $330."




"Returning to the sale question, the subjects that composed the bulk, and which commanded the biggest figures, were Thuya obtusa, Podocarpus macrophylla, Sciadopltys verticillata, Buxus japonica variegata, Larix leptolepls, Rhapis humilis, and trained Maples; one of these last, named Acer palmatum, realized $117.50, and the tree was not 40 inches in height.



How the Trees Are Dwarfed.

"The pines may be considered the most important of all these trees in Japan, and great care is taken of their cultivation and preservation. The most popular ones are Pinus densiflora, Pinus sparsiflora and Pinus Thunbergii. They are generally grown from seed, and great care is taken to select the choicest qualities. In the spring of the second year, when the seedlings are about eight inches in height, they are staked with bamboo canes and tied with rice straw, the plants being bent in different desirable shapes. The next fall they are transplanted to a richer soil and well fertilized. In the following spring the plants are restaked and twisted and tied in fanciful forms. This mode of treatment is given until the seventh year, when the trees will have assumed fairly large proportions, the branches being trained in graceful forms and the foliage like small clouds of dense green. The plants are now taken up and potted in pots one and one-half feet in diameter, and are kept well watered. Every succeeding year great care must be taken of new shoots, which must be kept pinched back. After another three years of this treatment the trees are virtually dwarfed, there being no visible growth thereafter.



Grafted Trees.

"Dwarfed Thuyas are effected by means of grafting. Let a Thuya seedling grow on fertile soil for three years, or until it becomes about five feet in length; then, in the middle of spring, cut off all branches, leaving the trunk and top branch ; take a one-quarter inch chisel and hammer it into the thickest portion of the trunk, hollow out a one-inch deep hole to every two or three-inch space, so that the trunk can be bent more easily in the desired direction; rice straw is twisted round the trunk, which is bent in many curious forms and fanciful shapes. In springtime of the second year of this treatment the plants are potted in rich soil; in another two years, when the plants have assumed permanent forms, Thuya obtusa is then grafted on the orientalis (pendula) stem.
"The process of grafting is as follows: In early spring two-inch shoots of Thuya obtusa are cut with a slant and inserted one inch or so apart on the trunk of Thuya orleatalls. The graft is bound round with rice straw which remains till the union is perfected. The plants to be grafted have already been provided with a frame made of bamboo poles and over these are thrown mats to shade from bright sun; these are removed each night. This makes the method much more simple than some Japanese and others have led us to believe." 1