"Forest of Odd Dwarf Trees Grown by 'Surgery'" (1929):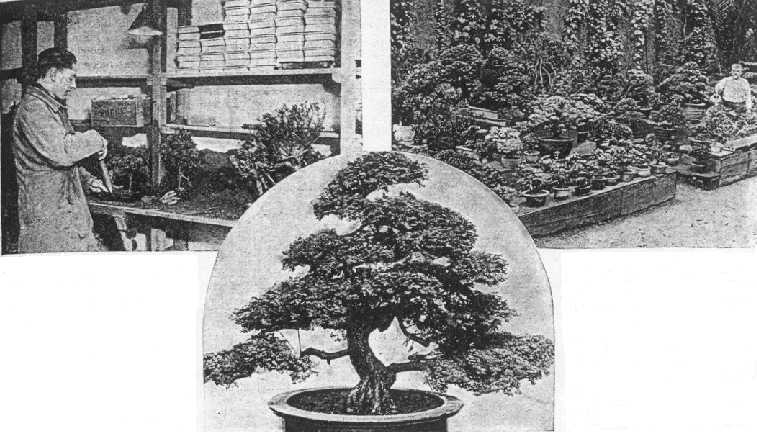 Left : Performing a delicate surgical operation on a shoot of a normal tree to stunt its growth and produce a curious dwarf.

Center : This gnarled dwarf tree has been living for seventy-five years -- yet is only eighteen inches tall. The gnarled effect was produced by weights.

Right : A "forest" of Tom Thumb trees a few inches tall grown by plant surgeons in a Paris horticultural garden.

GNARLED and twisted, a dwarf tree three quarters of a century old was exhibited recently in Paris, France. Its height was only a few inches greater than the length of this page! Similar dwarf trees, produced in Japan, are said to live a hundred years without growing as much as an inch!
An amazing forest of such Tom Thumb trees is located in a horticultural garden near the French capital. A science known as "nanization" produces them. Through delicate "surgical" operations on the roots and by semi-starvation, shoots of normal trees are stunted so they reproduce all the characteristics of forest giants without attaining a height of more than a few inches.
The process begins when a young shoot is placed in a small pot which restricts the roots and prevents them from growing too large. Then the main, or central, root is bound tightly with a wire underground at the point where the trunk begins. This wire gradually chokes the root to death. The secondary roots are trained to creep near the surface of the small amount of soil provided, so that partial starvation results.
As the outer roots grow, other surgical operations are performed every two or three years until all but three or four are choked off.
The gnarled appearance of an ancient tree is given the dwarf by tying weights to the tiny limbs. When the weights are removed, after several years, branches remain permanently bent.
The science of dwarfing trees has reached its highest development in Japan, where it has been practiced for centuries, and where the process was invented [sic]. The patience required to produce the diminutive trees makes them very expensive. I