NOTES
1. Laufer, Berthold Chinese Pottery of the Han Dynasty (Leiden: E.J. Brill, Ltd., 1909; 1962 reprint by Charles E. Tuttle Co., Inc.), pp. 175-176, 178, 180-181, 191-192, 194-196, 198; with a nod to Cláudio C. Ratto for having me take a second look at this work.

Stein, Rolf A. ( The World in Miniature: Container Gardens and Dwellings in Far Eastern Religious Thought ; Stanford, CA: Stanford University Press; 1990), pg. 42, which states that specimens existed among the antiquities collected during the Tang and Song, but the boshanlu were no longer said to be made by that time., also pg. 43, note 159 on pg. 300; b&w Fig 24 on pg. 47 is a photo and a line drawing of Liu Sheng's vessel.

Watson, William Pre-Tang Ceramics of China, Chinese Pottery from 4000 BC to 600 AD (London: Faber and Faber Limited; 1991), pg. 185. Also, per pp. 27-28, "Recent experimentation in China has however demonstrated that the so-called 'silver glaze' was created independently of the body [of the pottery vessels, such as the two lead-glazed earthenware pieces above]. The pieces in question seem to come exclusively from tombs made in damp soil, or which have suffered flooding. Affected by water and the atmosphere, the constituents of the glaze have tended to separate and be deposited at discrete levels within the glaze. Penetrating further into the glaze fissures, the process was repeated at lower levels, forming compact layers -- sometimes as many as twenty -- each about 3 microns thick, and so produced the iridescent and readily flaking surface."

Although the stars quote from pp. 155-156 of Cotterell, Maurice The Terracotta Warriors (Rochester, VT: Bear & Company; 2004, 2003).

Erickson, Susan N. "Boshanlu--Mountain Censers of the Western Han Period: A Typological and Iconological Analysis," The Archives of Asian Art 45 (Dec, 1992), pp. 6-28, which is adapted from her dissertation. Liu Xiang quote from pg. 15. The door jamb relief is mentioned in Note 1, pp. 20-21. A list of excavated boshanlu near the end of the article gives 133 pieces from 93 sites dating throughout the Western Han. Of these, 51 pieces are made of bronze, 68 of ceramic, 8 of gilded bronze, 2 of talc, 3 of iron, and one of bronze with inlaid gold -- Liu Sheng's, as depicted near the top of this page.
At least 30 of the pieces did not have an accompanying pen (16 bronze, 9 ceramic, 2 gilded bronze, 2 iron, and the bronze with gold inlay). The fifteen Chinese language sources Erickson examined did not indicate if there was a pen with at least 35 others (6 bronze, 28 ceramic, 1 gilded bronze). Nine of the pen-less vessels are also noted as being incomplete. Sixty-three of the total vessels come from Hunan province (28 sites: 8 bronze pieces, 47 ceramic, 5 gilded bronze, both talc, and 1 iron), eight each from Shanxi and Shandong (7 and 8 sites, respectively), seven each from Shaanxi and Hebei (7 sites each), and the remaining 40 come from 36 sites in 13 other provinces.
Sixty-seven of the pieces have heights given: the shortest is an 8.3 cm (3-1/4 inches) bronze without a pen, the tallest is a 58.0 cm (22-13/16 inches) pen-less gilded bronze which is on a unique stand in the shape of a pole of bamboo. This latter piece is also the earliest safely dated censer on the list due to an inscription which places its origin in 135 B.C.E. Originally made for use in one of the imperial palaces, it was later bestowed as a gift upon Princess Yangxin (c.153-106 B.C.E. ), the elder sister of the emperor Han Wudi. (See Erickson's "Boshanlu" article Fig. 7, pg. 11; also as Fig. 2, pg. 29 in Erickson's "Wenley Questions" article, and Fig. 9 in Clunas, Craig Art in China (Oxford: Oxford University Press; 1997), pg. 33 which describes it twice as gilded silver.) The average of all of the heights is 19.73 cm (7-3/4 inches); if we drop the shortest shortest and tallest, the average is now only down to 19.32 cm (range of 9.0 - 32.3 cm (3-17/32 to 12-23/32 inches), with 14.0 cm (5-1/2 inches) being the mode or most frequently repeated size).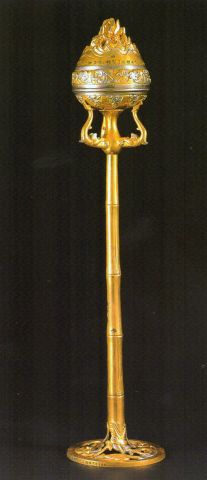 Incense burner consisting of a bronze brazier and a stem shaped like jointed bamboo, which are riveted together and then the whole is plated with gold and silver, a technique which became increasingly popular in the Han dynasty.
Manufactured under official supervision 137 B.C.E. and delivered the following year. Approx. 2.62 kg.
The base has two coiled open-mouthed dragons, one of which appears to bite the bamboo-like stem with its teeth. Three coiled dragons are cast near the top of the stem, their heads propping up the brasier on which more dragons are rednered in low relief. Fine lines depict the dragons' scaly bodies.
(Source: Michaelson, Carol Gilded Dragons, Buried Treasures From China's Golden Ages (London: British Museum Company Ltd.; 1999), pp. 49.)

Note: This is in no way a complete list of all known boshanlu. As is referenced in another of Erickson's articles, "The Freer Gallery of Art Boshanlu: Answers to A.G.Wenley's Questions" ( Oriental Art, Vol. 42, No. 4, 1996/97, pp. 27-38), there are a number of other pieces in museums in the U.S., U.K., Europe and elsewhere. Some of these were purchased for their eventual homes by collectors and have little or no documentation as to their provenance. Thus, the age, location, and any details of their burial hordes or long-time collection status are totally unknown.
The particular specimen of that article, acquired by Wenley in 1947, is a unique jewel-encrusted bronze piece, 17.75 cm H (7 inches) (below). Inlaid silver and gold support the stones (turquoise, carnelian, and amber) which apparently were added as an afterthought, crowded into place amid the figures of animals and hills.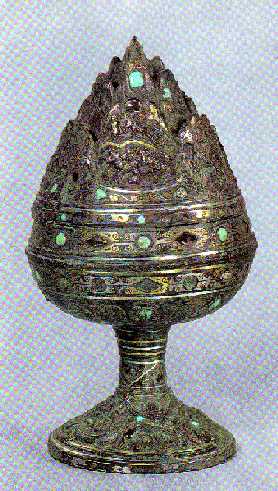 Bronze Censer of the Po Shan Type, Inlaid with Gold, Silver, Turquoise and Cornelian
2nd-1st century B.C.E. , Height 17.9 cm, Freer Gallery of Art, Washington, D.C.
(Source: Jenyns, R. Soame & William Watson F.S.A. Chinese Art II (NY: Rizzoli; 1966, 1980) Plate 38 and pg. 73)

cf. per The Chinese Exhibition, The Exhibition of Archaeological Finds of the People's Republic of China (Kansas City, MO: Nelson Gallery-Atkins Museum; 1975), b&w photo pg. 363, an openwork censer of three-colored glazed pottery dates from the end of the thirteenth century C.E. Same figure as Stein, Fig. 22?;

Spirit of Han (Singapore: The Southeast Asian Ceramic Society and Sun Tree Publishing Limited; 1991), pp. 38-39, 42-44;

Keswick, Maggie (Chinese Garden: History, Art & Architecture ; New York: Rizzoli International Publications, Inc.; 1978), pp. 38, 40;

first Hebei bronze perfume burner (Sheng tomb) shown in Zhongmin, Han and Hubert Delahaye (A Journey Through Ancient China; New York: Gallery Books; 1985), pg. 128;

also shown in b&w in Sullivan, Michael (The Arts of China ; Berkeley: University of California Press; 1984), pg. 73;

Spirit of Han, pg. 43 (good detail in b&w), and Keswick, pg. 40, which gives current location as National Palace Museum, Taiwan -- also pg. 119;

second Hebei piece shown in Stein, pg. 46 (b&w) and The Chinese Exhibition, color and b&w plates 146;

a green-glazed "hill-jar" from the Han dynasty, about 22.4 cm H (8-13/16"), is shown in Koyama, Fujio and John Figgess (Two Thousand Years of Oriental Ceramics; New York: Harry N. Adams, Inc.; 1960), caption on pg. 34 and b&w Fig. 12 on pg. 35, while another specimen known from a Chinese colony in Korea is shown as b&w Fig. 131 on pg. 315, with caption on pg. 314;

Yanagisawa, Soen (Tray Landscapes (Bonkei and Bonseki), Tokyo: Japan Travel Bureau; 1955), pp. 2, 77;

Behme, Robert (Bonsai, Saikei and Bonkei, New York: William Morrow and Company, Inc.; 1969), pg. 15;

Cahill, James (Scholar Painters of Japan: The Nanga School; New York: Asia House Gallery; 1972), pg. 89.
Cannabis as incense is mentioned in "In Search of Immortality," http://www.arthist.umn.edu/classes/AH8720/Spring2001/reading3.html, originally published in Searching for Immortality, the exhibition catalog of Weisbrod Chinese Art Ltd., Sept. 19, 2000, pp. 10-11 ( http://www.weisbrodchineseart.com ). The plant we term Cannabis was mentioned in ancient Chinese herbals at least as early as the second century B.C.E. when the Shen Nong Ben Cao Jing was first put in writing, per Bretschneider, E., M.D. Botanicon Sinicum (as Article III in Journal of the North-China Branch of the Royal Asiatic Society, 1881, New Series, Vol. XVI, Part I, Shanghai, 1882), pp. 31-32.

Per Teresi, Dick Lost Discoveries, The Ancient Roots of Modern Science--from the Babylonians to the Maya (New York: Simon & Schuster; 2002), pg. 356, "The Chinese were fascinated and preoccupied with preparations of perfumes, gases, airborne poisons, noxious bombs, explosions, and flaming eruptions. From the Ch'in and Han dynasties onward (221 B.C.-A.D. 220) they burned incense; fumigated for health reasons, to rid their houses and books of insects and pests; and produced smoke ritually to drive out demon spirits. Smoke, detonations, and loud explosions were intrinsically associated with the spirit world. Militarily, they used toxic smoke screens generated by pumps and furnaces in siege warfare from the fourth century B.C., or perhaps earlier."

Per Stein (above), pg. 303, note 183, "In China fumigation by means of scented and spiced essences had a sexual overtone. The name chiao-fang (pepper room) for the room of the queen alluded to powers of fecundity. Elsewhere, infusions of scented and stimulating essences always played a big role in Taosim." Pg. 89 states "In China the Taoists were responsible for the popularity of legends about the Isles of the Blessed. They preserved and transmitted an ancient stock of popular religious beliefs that are clearly dominated by the female element, a domination that the victory of the essentially masculine morality of the literate classes [Confucianists] could not snuff out. This religion had its basis mostly in southern China (in the state of Ch'u). This country was well known for the importance it placed on female mediums and their wild trance dances, as well as on fumigation."

Per Kerr, Rose (ed.) Chinese Art and Design, Art Objects in Ritual and Daily Life (Woodstock, NY: The Overlook Press; 1991), pg. 190, porcelain vessels in the shape of the meat, vegetable or pickled dish-serving dou, the wine pouring zun, and the food offering fu were in use during Qing Qianlong times (1736-95) for imperial ceremonies at various altars, especially around Beijing. These, of course, were based on bronze vessels used in rituals at the very dawn of Chinese history, as found in the c.1766 Illustrated Explanation to the Ritual Implements of the Imperial Dynasty. The dou had at least eighty-four specimens in use at the north Altar of Earth alone.