Widely-seen but Photoshopped Cannabis, "Blueberry," Germany.
Source: Art of Bonsai project Halloween 2007, http://artofbonsai.org/galleries/halloween07.php, 22nd image.
Shaped Marijuana plant (Cannabis sativa, family Cannabaceae), in a Bonsai pot, photo by THCtalk.
Source: "Marijuana Bonsai?," Bonsai Empire blog, May 20, 2015, https://www.bonsaiempire.com/blog/marijuana-bonsai.


We only learned today (09/18/17) that the widely-seen tree on the left above which we have long had on this page was actually a Photoshopped picture. In the interest of the accuracy of this website, we have immediately corrected the error. See also the first video on this page.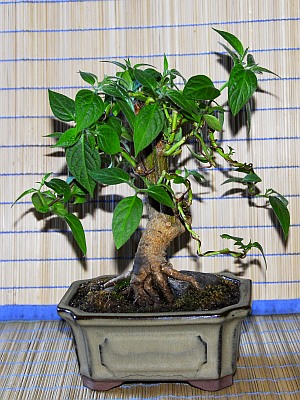 Capsicum, after wiring but before pinching, (Capsicum sp., family Solanaceae), Finland
Source: "Creating and growing your own Bonchi's," Fatalii's Growing Guide, http://fatalii.net/growing/index.php?option=com_content&task=view&id=95&Itemid=105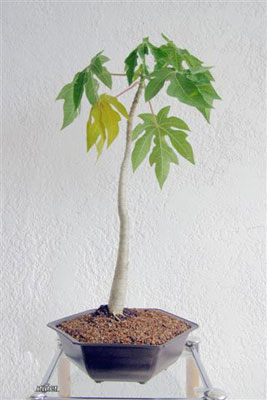 Papaya (Carica papaya, family Caricaceae), Italy?
Source: Negozio Bonsai, http://eshop.zr-giardinaggio.it/store/product_info.php?cPath=143&products_id=1292.

NOTE: We do notice that this specimen is not as mature as the others on this page.
Even younger and less developed plants as coffee and avocado have been seen as bonsai-in-training.
When more developed versions of these are seen, then we will place them here.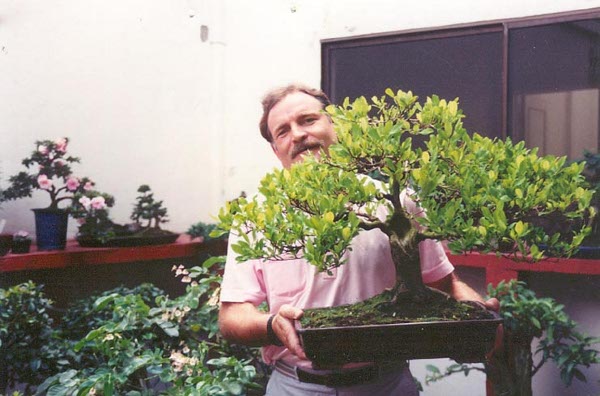 Coca (Erythroxylum coca, family Erythroxylaceae), Columbia
Source: http://webzoom.freewebs.com/banting/ImagesA1/A%20cocaine%20bonsai.jpg,
per Internet Bonsai Forum posting by Russell Coker 04/20/2010, picture is of Vaughn Banting (Louisiana, USA) during visit to Columbia in late 1980s or 90s.

NOTE: See also this forest-collected False coca (Erythroxylum deciduum) in Brazil,
http://ibonsaiclub.forumotion.com/bonsai-f1/false-coca-t2425.htm?sid=ffb592353caa308017813e704e8826ad.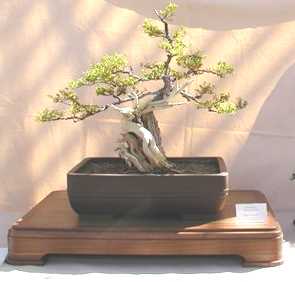 Creosote / Greasewood (Larrea tridentata, family Zygophyllaceae), Arizona, USA
Source: http://www.phoenixbonsai.com/Display/Creosote.html et al.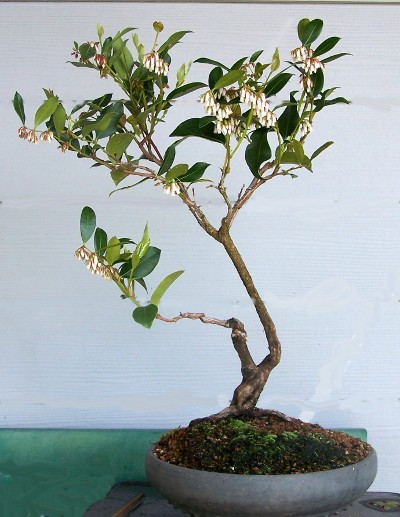 Shining Fetterbush (Lyonia lucida, family Ericaceae), Florida, USA
Source: personal e-mail to RJB from Jim Lewis on 25 Apr 2010, "This was dug from a swamp on my Florida property."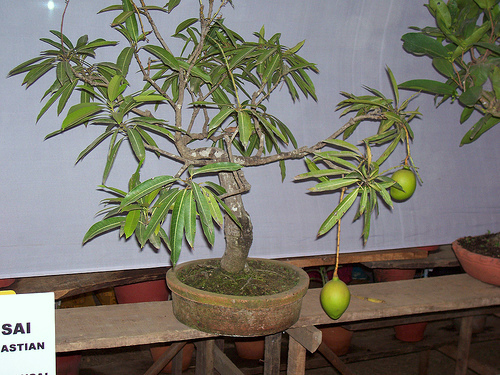 Mango (Mangifera indica, family Anacardiaceae), Cochin, India
Source: "Mango Bonsai Tree" http://www.flickr.com/photos/shajis/394927589/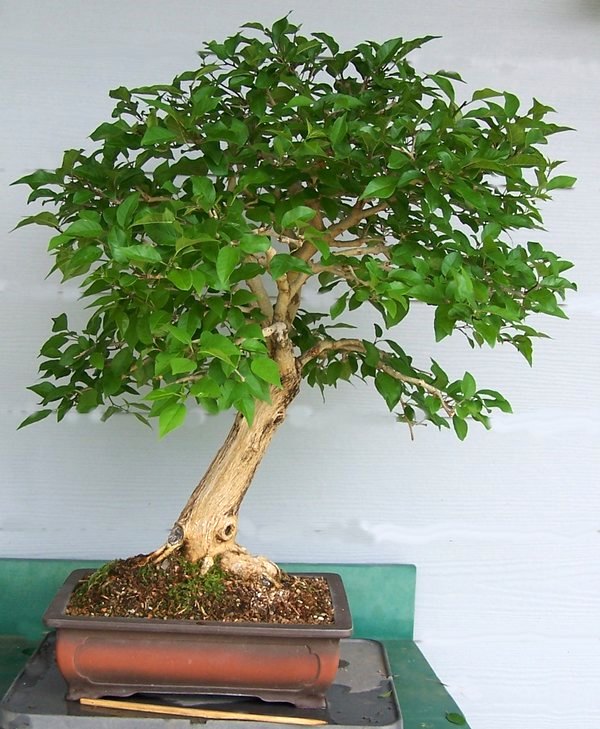 Osage orange (Maclura pomifera, family Moraceae), Florida, USA
Source: personal e-mail to RJB from Jim Lewis on 20 Apr 2010,
"growing this one since 1999. It came from a root sprout from a large one I had grown from seed and planted along my drive..."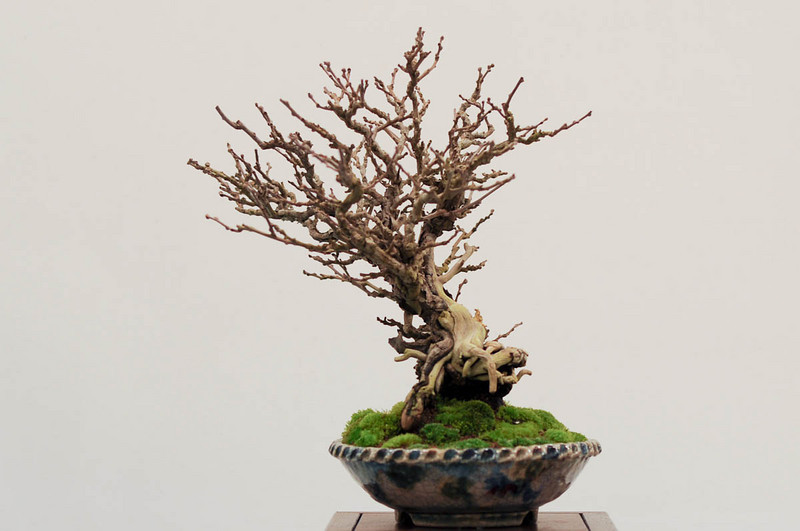 Gooseberry (Ribes uva-crispa, family Grossulariaceae), California, USA
Source: Bay Island Bonsai exhibit in Pleasanton, CA, http://dupuich.smugmug.com/Bonsai/Exhibits/BIB-11th-annual-exhibit/11016957_i9bz2/1/#774514130_gF3jP-A-LB.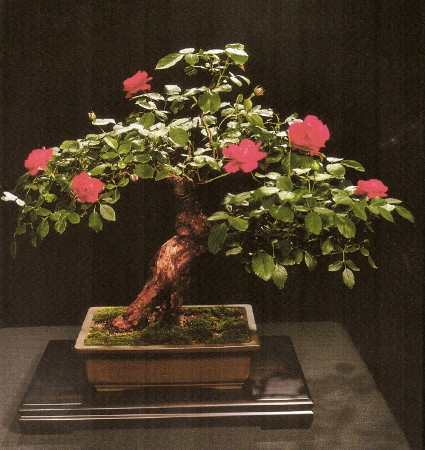 Blaze Rose (Rosa x 'Blaze') (Rosa sp., family Rosaceae), North Carolina, USA
Source: "The Beauty of Rose Bonsai," International Bonsai, IBA, 1991/No 4, pg. 27, photo by James Effinger.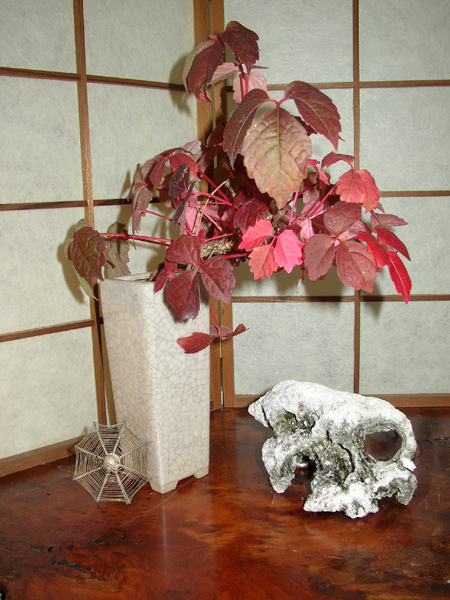 Poison Ivy (Toxicodendron radicans, family Anacardiaceae), North East, USA.
Source: http://www.artofbonsai.org/galleries/halloween07.php, 7th image.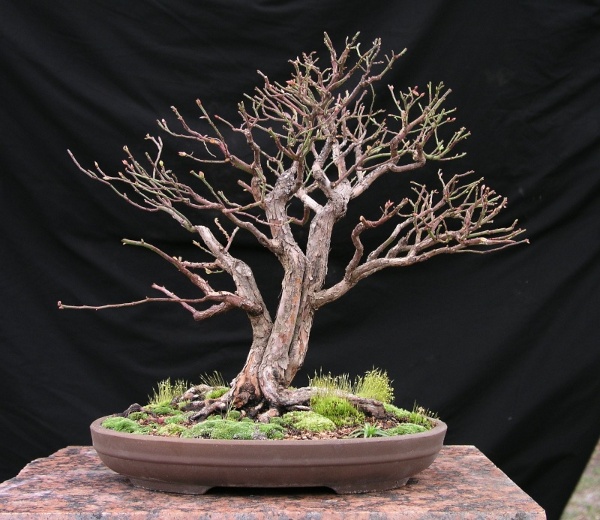 Blueberry (Vaccinium sp., family Ericaceae) from collected material, Florida, USA.

See pictures and video of a different specimen of a blueberry bonsai in bloom, Florida, USA.

[Somewhat an honorable mention, since Yoshimura and Halford have Dwarf mossberry (V. vitis-idaea, pg. 194) and Mossberry (V. oxycoccus, pg. 203),
and there is an obscure historical reference to a dwarf whortleberry (V. caespitosum) being collected in New York state by Chinese visitors in the mid-1840s.]
(Source: Internet Bonsai Club Forum posting 02 Feb 2010, http://ibonsaiclub.forumotion.com/bonsai-f1/a-blueberry-t2213.htm)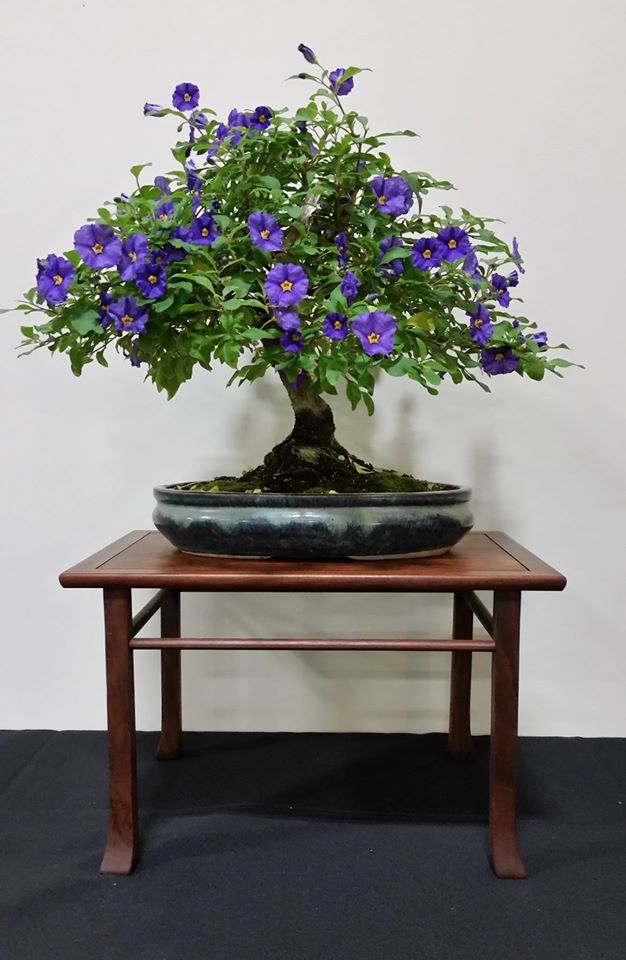 Potato (Solanum tuberosum, family Solanaceae), Cary Sullivan's potato vine bonsai exhibited at the 2015 GSBF Convention in California.



See also this thread on the Internet Bonsai Club Forum.
Anyone who knows of additional less common plants made into bonsai is asked to please contact rjb@magiminiland.org. Contributor acknowledgment will be posted. Please include as many details as possible. Thank you! (Potato bonsai -- which result in shaped plants vastly different than the above -- and banana bonsai will not be considered here for now.)