11
2005 -- Ernesta Drinker Ballard died of a complications from a stroke in Philadelphia at age 85. (Her career in bonsai began in 1960 when she took a class taught by Yuji Yoshimura at the Arnold Arboretum. In 1962 she wrote what some say was the first book on the subject written by an American, The Art of Training Plants. The book was reprinted in 1974. It was her interest in bonsai that persuaded her husband, Frederic, to take up the art as well. Founding members of the American Bonsai Society in 1967, the two were instrumental in introducing California teacher John Naka to bonsai practitioners on the East Coast within a couple of years. She was elected to the National Bonsai Foundation Board of Directors in 2004. (Frederic, who died in 2001, had been the first president of the NBF).
(Ernesta was also the Executive Director and President of the Pennsylvania Horticultural Society for eighteen years from 1963 to 1981. Early in that period, the society's annual flower show, which began in 1829 and eventually grew into the largest indoor flower show in the United States was faltering, and a two-year suspension was discussed. Mrs. Ballard argued that a suspension might be fatal and instead changed the content of the show, bringing it to international prominence under her leadership. An exhibitor herself, she directed the show for 17 years, until 1981. She opened it to amateur growers and used it as a teaching laboratory for a wider public. Under her guidance, the event began to produce a financial surplus, which she used to start the Horticultural Society's community gardening program, Philadelphia Green. That program, which turns vacant lots into vegetable gardens and flower beds, became one of the largest such urban greening projects in the nation. Ernesta also played a leading role in saving public monuments like the Swann Fountain on Logan Circle and restoring the buildings and grounds of Philadelphia's historic Fairmount Waterworks. She was a Fairmount Park commissioner for 21 years, until 2002. And as a member of the Commission she started an important community gardening program. In 1977 she was presented with the Arthur Hoyt Scott Medal and Award by the Scott Arboretum.
(Born into a distinguished Philadelphia family, a daughter of a prominent lawyer, Harry Drinker, and Sophie Hutcheson Drinker, a feminist and author, Ernesta was not encouraged to attend college. However, she graduated as an adult from the Pennsylvania School of Horticulture for Women (now part of Temple University) in 1954, when she started her own greenhouse business. Ernesta was also known as the "godmother of Philadelphia feminism." She was a founder of local chapters of groups like the National Organization for Women and campaigned for the Equal Rights Amendment and abortion rights. The Feminine Mystique (1963) by Betty Friedan propelled Ernesta toward feminism, and it was Ms. Friedan who invited her to start the NOW chapter.)
[The Women's Way Book Prize would honor a female author for her work in advancing the dialogue about women's rights. Established in 2007, this prize would honor the legacy of Ernesta Drinker Ballard, a Women's Way co-founder, first president of its Board of Directors and extraordinary champion for women and girls.]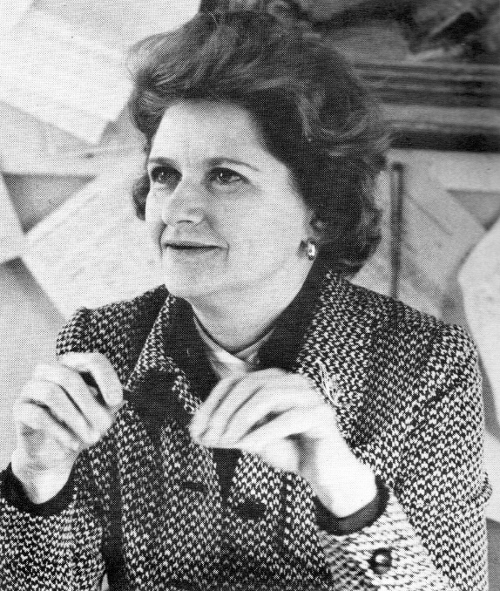 Ernesta D. Ballard
(Bonsai Journal, ABS, Vol. 9, No. 2, Summer 1975, pg. 42)



("Ernesta Drinker Ballard" obituary in NBF Bulletin, National Bonsai Foundation Newsletter, Vol. XVI, No. 2, Winter 2005, pg. 2; Saxon, Wolfgang "Ernesta Drinker Ballard, 85, Horticulturist and Feminist, Dies," New York Times, Sept. 1, 2005; "Scott Arboretum: A. Hoyt Scott Award Recipients," http://www.scottarboretum.org/pages/medalpast.html) SEE ALSO: Mar 13

15
1921 -- Masao Takanashi was born in Glendale, CA. [He would go on to help found the San Diego Bonsai Club and be its sensei until his death in 2008.] (Sulivan, Cary "Masao (Mas) Takanashi," Golden Statements, GSBF, September/October 2008, pg. 10) SEE ALSO: Mar 3, Apr 10, May 14.

1973 -- The first meeting of The Sunshine Bonsai Group was held at the home of Mrs. Eunice Gill. Eunice had placed an ad in the local newspaper for anyone who was interested in bonsai to get in touch with her. As nine people responded to the ad, they decided to start a bonsai group. [The non-profit group's first venue would be Castley Hall in Glengala Road Sunshine. In February 1974 Mrs. Elsie Gras would give the first of her many talks and demonstrations to the group. That July they would be able to send out newsletters each month and to purchase some pots from the Victorian Bonsai Society. That same year they would also start to put up a display of bonsai at the Sunshine Horticultural Society annual show. This would give them a lot more exposure to the general public, as at this stage they would not be having a show of their own. The following year the Sunshine Horticultural Society would start a Bonsai section at their show with judging being for a novice section and an intermediate section. Mr. Frank Hocking would judge most of the shows. By around 1980 they would start to hold their own shows. The first couple of shows would be a bit disappointing considering the work the members would have to do to make it happen -- undoubtedly similar to many other clubs' experience in the early stages. They would do a lot of demonstrations and workshops in the area during the early 80's, which would help to promote bonsai, visiting every Garden Club between Melton and Broadmeadows for either a talk or demonstration. Frank Hocking and the Victorian Bonsai Society and people such as Elsie Gras, Nell Saffin, Ron Andersen, Max Leversha and June and Con Clark would always be willing to offer their time and services for talks, demonstrations, or workshops for Sunshine.] ("History," Bonsai Northwest Inc., http://www.bonsainorthwest.com.au/#!history; please see photos of Eunice, Ron, and Nell at http://www.bonsainorthwest.com.au/photoarchive#!__photoarchive/vstc2=page-15, and many other chronological photos can be accessed from that page) SEE ALSO: Jan 1, May 15, Jun 17.
20
1900 -- Frederick Lape was born on the family farm near Esperance, Schoharie, NY. [He would earn a degree in English at Cornell and start a teaching career at Stanford University, before he returned in 1928 to the farm to pursue a career in freelance writing. Prolific in prose and poetry, he would be involved in music, art and theater. Fred would teach for a few years in the late 1930s at Rensselaer Polytechnic Institute in Troy, New York. By the time he inherited his family's 97-acre farm 25 miles west of Albany, he would know what he wanted to do with it: plant an arboretum that would be open to the public. Fred Lape would aim to grow every species of woody plant from temperate regions around the world that would survive in the hills of Schoharie County. Others would come to share his interest and become an integral part of the operation of the arboretum. George Landis, an academic colleague, plant collector and friend of Fred's, would be one of the early enthusiasts who helped bring about the creation of the site. George would then pass away in 1950, leaving most of his estate to Fred. This bequest would allow Fred to focus his energy on planting an arboretum. The George Landis Arboretum would be established in 1951 and named for the "friend who had made it all possible both in life and in death." Fred would collect plants from nurseries, other arboreta, and botanical gardens through seed exchanges, and from the wild. Incorporated in 1961, the Landis Arboretum would house a collection that includes both common trees and trees rarely found in that area. It would grow from the 97 acres to over 200 through donations and purchases of contiguous lands. Fred would keep careful records of his plantings, providing valuable historical documentation of his efforts. He would chronicle his prodigious efforts to collect and study plants from nurseries, roadsides, forests, and fields in A Garden of Trees and Shrubs, a book published by Cornell University in 1965.
[The book would contain a chapter (pp. 91-99) on bonsai based on a 1961 New York Times article about his early experiences and trials-and-errors with American plants. His interest had started during his college days and he began with two stunted junipers ( J. virginiana ) that were growing in his cow pasture. He made two shallow boxes out of thin pine to house the plants as bonsai containers -- and books on the subject -- were unheard of on the American market. Initial success with the long-suffering junipers led to repeated attempts with other plants. When the first books in English did appear (1940s), he got his first instructions in the proper technique of wiring and shaping. By the time the arboretum was begun, Fred's collection included about a dozen bonsai. At first public interest was casual, but gradually it increased. A dozen years later the collection included an American larch (his best specimen), juniper, red spruce, white pine, pitch pine, hemlock, white birch, beech, hornbeams, and shadbush.
[Fred's friends, with the help of a few small grants, would continue to plant and maintain the grounds. In the later years of his life, finding increasingly difficult to manage the Arboretum, he would slowly transfer management to the Board of Trustees. He would create a small endowment fund prior to his death in 1985. Seven hundred volunteer members would continue his legacy.] ("The Lape Immigration: The 275 Year History of the Lape Family in America," http://home.twcny.rr.com/lape/move.htm ; "A Garden of Trees and Shrubs," http://www.catskill.net/purple/garden.htm ; "Landis Arboretum History," http://www.landisarboretum.org/history.htm, a search inquiry of this web site on 01/29/04 resulted in no records for the term "bonsai." What happened to Fred's trees?; "Listing of AHS Member Reciprocal Admissions to Arboreta, Gardens, and Conservatories: George Landis Arboretum," http://www.ahs.org/events/reciprocal_events.htm ; "Landis Arboretum," http://www.championtrees.org/oldgrowth/surveys/Landis.htm ; "A Pioneer of American Bonsai" by Dorothy S. Young, Bonsai Journal, ABS, Vol. 2, No. 1, 1968 Spring, pp. 11-12 is mostly derived from A Garden of Trees and Shrubs )

1972 -- The first edition of the Japanese book Bonsai Masterpieces to include the 90-page English supplement by Yuji Yoshimura and Samuel H. Beach was published. (The original 352-page Japanese edition of Nippon Bonsai Taikan (Grand View of Japanese Bonsai and Nature in Four Seasons) was published on April 29, 1970 by the Japanese Bonsai Society, Inc.) The full-size English booklet included a small b&w photo of each of the 208 full color images in the Japanese edition, along with a translation of most of the text. Both the booklet and the large Japanese edition came presented in a traditional cloth-covered slip case at the advertised price of ¥20,000 or US $110.00 by Tokyo's Seibundō Shinkōsha Publishing Co. (Advertisement, Bonsai, BCI, Vol. XI, No. 10, December 1972, pg. 21, which has Beach's middle initial as "S."; notes from the English booklet seen by RJB in the Phoenix Bonsai Society's library holdings)

1984 -- " The Eighteen Scholars," a set of four postage stamps based on a Northern Song dynasty hanging scroll which includes depictions of several types of penjing, was issued by the Republic of China (Taiwan). SEE ALSO: Jan 23, Jan 29, Feb 3, Feb 16, Mar 1, Mar 27, Mar 31, Apr 3, Apr 6, Apr 18, May 6, May 29, Jun 16, Jul 20, Aug 22, Sep 22, Oct 1, Oct 4, Dec 9.