In November of 1950, the Southern California Bonsai Club was officially formed by John Naka and four friends, Fusaji ("Frank") B. Nagata, Morihei Furuya, Mrs. Ai Okumura, and Joseph Yamashiro, to bring bonsai within the reach of everyone. The first three had been introduced to John by the aforementioned Mr. Doi, who worked for Mrs. Okumura and took care of her bonsai collection.
(Doi had become teacher to Nagata and Furuya before WWII. The three of them happened to be assigned to the same relocation camp in 1942 -- near Granada in eastern Colorado, Amache was the smallest camp with only an 8,000 person capacity. While there, they managed to put on a makeshift bonsai exhibit for their fellow internees. After the war they returned to Los Angeles.)
Mr. Yamashiro had met the Nakas in Colorado during the war and they were distant acquaintances. It just so happened that the Yamashiros later moved next door to the Nakas in California. On Sundays the two families would regularly get together. While the poet and philosopher Joseph Yamashiro and John worked on miniature trees in the yard, Alice Naka and Hanna Yamashiro pursued their own interests.
The five students of bonsai became close, spending all their time talking about and working with bonsai.
Now, Mssrs. Nagata, Furuya, and Naka decided to show their trees at the November 1950 San Gabriel Valley Fall Flower and Garden Show at the Fannie E. Morrison Horticulture Center in Pasadena. When they arrived they were informed that individuals could not display unless they were sponsored by a club. Without a moment's hesitation, the quick thinking Frank Nagata spoke up and said they were a club. And what was the name of the club? Again, without hesitation or benefit of conference: The Southern California Bonsai Club. They were now allowed to enter their trees, which did win a trophy and a blue ribbon at the Show the next day.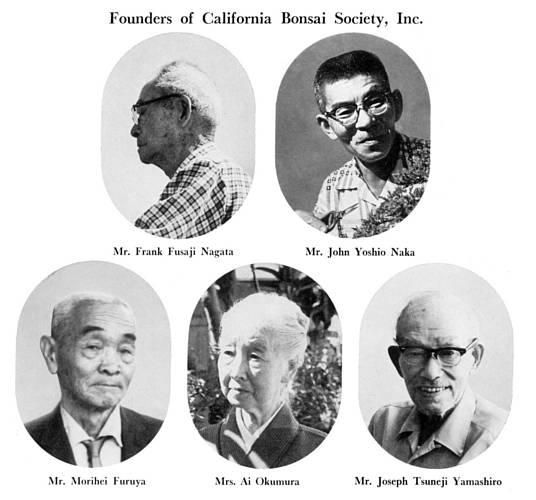 Founders of The Southern California Bonsai Club (later the California Bonsai Society, Inc.)
(Bonsai in California, #1, 1967)




A demonstration was also given then by the group's youngest member, John. His inaugural exhibit of trees was the first time many Americans had the opportunity to see bonsai after the war. Within two years John would be teaching, first his immediate friends, and then others
By the way, John and his friends decided to make an honest man of Frank, and they founded the organization that Frank had named, in Mrs. Okumura's backyard.
In training by John from this year was a 30" tall silvery blue Atlas cedar ( Cedrus atlantica var. glauca).

March 3 -11, 1951 the club won another first prize, this time at the California International Flower Show at Hollywood Park in Inglewood. And the following month the club won a special award in the Southern California Spring Flower and Garden Show, again in Pasadena.
This year John started training a prostrate juniper (Juniperus squamata var. prostrata) in the kengai or cascade style. The tree's heighth from apex to lowest branch would eventually be 35 inches.

His son Robert's science teachers, Ronald Mark and Francis "Jerry" Hill, were brought home to show them John's collection of bonsai. So impressed with the trees were they that they invited John to accompany them on a Saturday morning excursion into the desert mountains in southern California. This was in 1952. Off they went, and John saw for the first time these magnificent trees only a few feet tall but gnarled and twisted unlike anything he saw in the local nurseries. That was the beginning of the weekly trek to the "Valley of the Junipers" for the next twenty-five years.
A 28" tall prostrate juniper with an extremely curved trunk was collected this year and began its training by John

. 2

Interest in bonsai was climbing, the club was growing, and the exhibits were improving. At the Spring Show the club again won the blue ribbon.

Prior to the April 1953 show, the organization which now was made up of more than forty members -- including a few caucasians -- changed its name to the Southern California Bonsai Society. Its listed purpose was the promotion and popularization of the art of bonsai. In addition to the first prize blue ribbon that year the club received a special award and a bronze medal.

Again in 1954, the Society won a first award, but this was the final year of the Spring Flower and Garden Show at Brookside Park in Pasadena. During the next three years, the Society did not participate in any shows. The monthly meetings were devoted to the improvement of the bonsai of the now more than hundred members. 3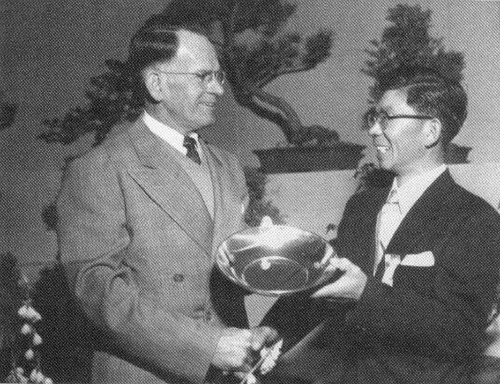 "John receives the Best Show Award for the bonsai display
at the Annual Pasadena Spring Flower and Garden Show
in April 1954."
(Bonsai Magazine, BCI, Vol. 44, No. 1, January/February/March 2005, pg. 11)



A kengai style Formosa azalea (Rhododendron indicum var. formosa), with an eventual apex to low tip span of 34 inches, was started in training by John in 1955.

In 1957 John gave a demonstration on Channel 5 KTLA "Garden Chats" with Joe Littlefield.

On April 20, 1958, the Southern California Bonsai Society, hoping to make itself a state-wide organization, was renamed The California Bonsai Society. John would be its president for thirty-two years, except for 1959 and 1960 when co-founder Morihei Furuya helmed the club. The group presented its first annual exhibition of miniature trees at the California Museum of Science and Industry in Exposition Park in Los Angeles. John acted as show chairman for the April 27 - May 4 event which was themed "What is Bonsai?" The exhibit was judged a huge success and scheduled as an annual affair. 4


See also this b&w photo of John from April 26 at the State Museum building, plus "View Resource" for this one and this one from color slides taken on an unspecified day in that year.
One of the students he started with this year was Ben Oki. John quickly realized Oki's extraordinary talent and would eventually invite him to assist John at many conventions across the country.
A 27" moyogi style wisteria ( Wisteria brachybotrys ) and an eleven-tree raft style elm ( Ulmus sp., eventually 17" tall and 37" wide) began their training with John in 1958. On July 4 he collected an olive tree from an olive ranch in Fontana, CA. 5

John Catlin was the show chairman for "Bonsai -- New and Old" in 1959.

Frank Nagata supervised "Early Spring Bonsai" in 1960. By this time the annual show was recognized as the largest exhibit in the United States and that year a congratulatory message was received from the Prime Minister Nobusuke Kishi of Japan. 6
Also by this year, Phoenix, Arizona bonsai teacher Paul Matsusaki had read about California teacher John Naka in a local newspaper article and, after a series of letter exchanges, invited John to come over from Los Angeles to present a lecture-demonstration at the Heard Museum. John would continue almost annual trips to Phoenix to give workshops to and supervise digs for both the local and Tucson Bonsai Societies through at least 1978.
In 1960, John started training, among other trees, a 19" tall hollowed trunk style silverberry ( Elaeagnus macrophylla ), a 46" tall hollowed trunk style formal upright Montezuma cypress, and a 32" koboku moyogi style golden-cup oak ( Quercus chrysolepis ),

John Naka founded the Seinan (Southwest) Bonsai Club in 1961 (renamed Nanpu Kai in 1964). This club for select teachers only would see many of California's greatest talents over the next few decades. John also presented a lecture/demonstration to the Southern California Gardeners Association this year (and the Japan America Society the next). Earl Donovan chaired the California Bonsai Society show themed "Bonsai -- A Living Art."

"Forests and Root-over-rock Plantings" were featured in the 1962 show for which Hunt Lewis was in charge. And that March the Society incorporated as the California Bonsai Society, Inc.
On April 4, the same day his first grandson was born, John collected a California juniper ( Juniperus californica ) in the high desert country. In honor of 1962 (the "Year of the Tiger"), the 33" tall tree would later be named Tora (Tiger). (The tree is believed to be the longest trained of any California Juniper.)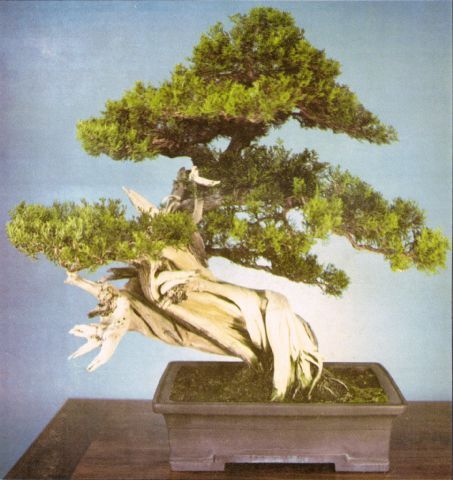 "Tora"
(ABS Bonsai Journal, Summer 1985, front cover)




In November, another California juniper was collected. At 32" in height, this would be named Ryu (Dragon) because there is a mythical rivalry between a "Tora" and a "Ryu" to see who can strive to obtain something that only one can possess.
This year John began to travel to other states, including the East Coast to teach and demonstrate.


For the next three years William Hatashita was chairman of the shows: "Preview to Summer" (1963), "The Art of Miniature Trees" (1964) and "Welcoming Spring with Bonsai" (1965).


Since John was fluent in Japanese, he began writing to Norio Kobayashi in 1963 and the two exchanged letters and information. This led to an invitation from Kobayashi to John to see the Kokufu-ten Bonsai Exhibition in Ueno Park, Tokyo. This would be John's first visit to Japan since he returned to the U.S. in 1935.


In 1965 John and Alice Naka first visited the Kokufu-ten, the ultimate exhibition in the world. At this 39th presentation of the world's finest trees -- which are chosen ahead of time by a panel of judges who see a photograph of each of the perspective entrants -- one of the bonsai was by a blind artist. His beautiful tree had been lovingly shaped by careful touch only, knowing the size and position of each branch, the feel of healthy leaves. John was moved by this pinnacle of interest in his chosen art.
While in Tokyo, Kobayashi and John met several times and the author/publisher saw that the young teacher was introduced to the leading fugures in Japanese bonsai. These included Yoshimura, Katō, Shinkichi, Takeyama, Murata, Chugun, Kawasumi, and Tahagi. Kobayashi gave John an annotated business card that helped John with other introductions during his visit. Kobayashi was a source of encouragement and was responsible for persuading John to look for and use native North American plants as bonsai materials and not rely on the traditional plants used for Japanese bonsai. John returned from Japan and followed the older master's advice. 7
Also, a seven-tree forest of juniper ( J. chinensis var. foemina ) was arranged by John by this year. The selected field-grown plants were created at John's home in Compton, CA. The four foot tall main tree had been first trained in 1954 and potted alone. The other trees were selected and potted individually as the spirit moved him (in a way the reverse of the Kawamoto system in which trees are developed in groups to be used as individual bonsai later). John fondly remembered a Cryptomeria forest near a shrine in Japan and wanted to emulate the majesty of those trees in his new creation. When he had the seven trees he needed, John arranged the handsome group in a 31" x 22" oval tray. George Yamaguchi, Richard Ota and several other friends encouraged him to name it. John thought of the qualities of the forest near the shrine that had inspired him to create the group -- venerable, holy, solemn, and sublime. The name he chose for this special bonsai was Goshin ("goh-sheen," protector or guard of the spirit).
The initial planting had only seven trees, and at the time John had only seven grandchildren. Proud of his grandchildren as he was his forest, John's oldest grandchild asked, "Which tree is me?" John replied, "You may not be happy because the oldest one is the smallest one." But his grandchild was quite content, because John had always said to him that the two most important trees in the forest are the smallest and the largest. 8

John appeared on Channel KNBC "Survey 65" to talk about bonsai with host Bob Wright. 9

The 1966 show, "Nature in Bonsai," was headed by George Yamaguchi.

He also helmed the following year's "Bonsai -- Yesterday and Tomorrow." This tenth annual show was extended to two weeks in length and allowed nearly 60,000 spectators to view the display.
The first [nearly annual] issue of Bonsai in California was published by the California Bonsai Society and printed in Japan in 1967. Fifty-seven b&w photos of members' trees, nine pictures of suiseki, five short articles on bonsai, and one on the aesthetics of stone viewing made up this fifty page issue commemorating the club's tenth annual show. (Vol. III in 1969 saw the first color photographs, including one of Goshin. [The correct scientific name is given in the caption, but the English is listed as "Needle juniper."]) Subsequent issues would be all or predominantly full color, and there would be a few articles, including those by John Naka and some of his best students, up and coming teachers in their own right. Enthusiasts from other clubs returning from the annual shows have regularly brought copies of both these and those gorgeous imported calendars featuring full-size photographs of the Japanese trees. Thus more examples of quality American and Asian bonsai could be studied for years to come. Slides and photos would be shown or passed around to bring other members up to date about the convention experiences. John would take the cover photographs and edit and photograph many of the issues. 10

At what was the first showing of a "new" work by John Naka, Leroy Fujii of the Phoenix Bonsai Society was in attendance. Afterwards Leroy and his brother Tad ran into John at a restaurant, and Leroy congratulated the teacher on Goshin's perfection. John expressed that he was not satisfied yet with it... (During several of the Phoenix club's nearly annual visits to the California Bonsai Society shows and L.A.-area bonsai nurseries, John's private collection was occasionally visited or else a few moments were gotten with the teacher between sessions at the show.) 11