John's Bonsai Techniques II was published in 1982. (This one and the first would see translation into four other languages by the end of the decade.) The 442 pages and 1,005 b&w photos and line drawings made this required reading in the practice of the art of bonsai. Most of the earlier books in English leaned more towards basic horticultural knowledge and techniques for keeping the trees alive. In time, this material shifted towards explaining the aesthetics involved in styling and shaping. 21

| | | | |
| --- | --- | --- | --- |
| | | | |
| | | | |
| Français | Deutsch | Italiano | Español |

In April, the California Bonsai Society, Inc. and California Museum of Science and Industry Silver Anniversary Exhibition was held.
The following month John demonstrated before the Pennsylvania Bonsai Society what could be done with less than perfect material. Four not-for-sale flawed plants were gotten at the Rosade Bonsai Studio's back spaces and turned into dramatic bunjin-style specimens.
John was one of the featured teachers at the ABS Symposium in College Park, MD (June 24 - 26), and then July 7 through 11 for BCI in Cleveland.
During his second trip to South Africa, John also demonstrated in the cities of Durban and East London. 22
For the twentieth anniversary symposium of the Bonsai Society of Greater New York in April 1983, Yuji Yoshimura and John Naka were the principal lecturer/demonstrators. They then headlined July 6 through 10 for the BCI Convention in Orlando, FL
John also did a thirty-one tree Alberta spruce forest lecture/demonstration in June. The trees ranged from 1 to 22" tall with 1/32" to 1-1/2" trunk diameters respectively arranged as a receding wedge in a 16 x 22" oval tray that was two inches deep.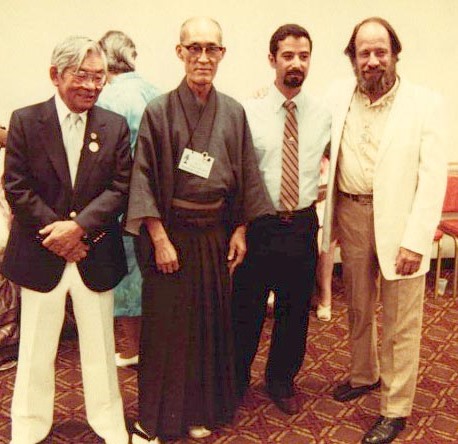 John Naka, Yuji Yoshimura, Bill Valavanis, and Chase Rosade in Orlando, FL, 07/09/83.
(Photo courtesy of Alan Walker, 05/11/07)



And Naka-san was one of four leading teachers who participated in a series of Master's Design articles for International Bonsai magazine. Each artist was allowed to discuss his own particular design for the given style. This year's style was Informal Upright, 1984 would have the Cascade, 1985 would be Slanting, and 1986 would see the Formal Upright. Each artist was allocated 100 points to divide among the designated elements pertinent to his bonsai design, and each supplied sketches which were then rendered into a standardized format. 23

After displaying it at the Philadelphia Flower Show March 10 to 17 to some quarter million people, John presented his masterpiece juniper forest Goshin to the National Bonsai Collection in Washington, D.C. in March, 1984. The composition was the first resident of the new American Bonsai Pavilion and the largest bonsai at the National Arboretum. It was slightly taller than the 49" high, single trunk Japanese red pine ( Pinus densiflora ) donated by the Imperial Household in 1976. At the reception honoring John, Goshin was dramatically displayed against a golden screen, and was the only bonsai in the room.
On April 28-29, the Second European International Bonsai Symposium was held in Mannheim. Nineteen countries and thirty-three bonsai clubs in Germany were represented. Symposium registration was six hundred persons. Hundreds of bonsai -- many very old, and all refined and sparkling with beauty -- were on display and for sale. John Naka was the guest artist, and he demonstrated by cutting down three 8-foot tall trees to do an eighteen-inch planting with jin. A second planting was in the bunjin-style. Four television monitors relayed the demonstration, which was also conveyed by a German interpreter. John then went on to England and Scotland.
British Columbia, Canada hosted John in June.
During the joint BCI/ABS Convention in Seattle, WA, some 480 attendees were taught by the likes of John, Shinji Ogasawara, Haruo Kaneshiro, and ten others. "Gems of the Pacific Rim -- Bonsai and the Emerald City" was held from July 4 through 8.
A b&w photo of Goshin was on the cover of the Summer issue of ABS's Bonsai Journal.
A large Dwarf Japanese garden juniper was pruned and wired into the literati cascade style by John on September 8-9 at the International Bonsai Arboretum's symposium in Rochester, New York.
In October, the First International South African Bonsai Convention in Johannesburg included a bonsai and suiseki exhibition, and demonstrations by John and Japan's Shigeo Katō. The theme was "Bonsai -- Beauty and Harmony." John had been in South Africa since late September and again included field trips to collect beautiful viewing stones which he brought back to his home in southern California. 24

In 1985 John Naka came to the Philippines with a tour group of mainly Americans. He held a one-day lecture which included the restyling of a few trees. The event is considered the turning point for bonsai in that country. Naka was the first sensei to speak on the subject there and the members of the Philippine Bonsai Society, Inc. (formally organized in 1975) attended the lecture in full force. His advocacy for "the rules" was easily accepted. After that visit, his second book became available and it became the bonsai bible there, too. Subsequently, nearly every tree was restyled and judged in shows in accordance with the "the rules."
The first color cover of the American Bonsai Society's Bonsai Journal was a photograph of John's California Juniper Tora. (Pictures of the tree had by this time also appeared in the Time-Life Book Miniatures and Bonsai (1979) and two publications of the Japan Bonsai Association.) The first in a series of "Ask the Masters" interviews also was in that issue and, of course, was with John, who by this time is listed as having travelled to 34 states and 18 foreign countries. 25
A full page b&w display ad for Green King, "The new bonsai fertilizer from Japan," made its deput in International Bonsai, 1985/No. 3, page 28. A picture of John with the signed testimonial "I am using Green King fertilizer on my bonsai" is prominently shown on the right side of the ad which would appear in four successive issues.
On November 3, Emperor Hirohito of Japan bestowed upon John the most prestigious award for a non-Japanese citizen, The Fifth Class of the Order of the Rising Sun. Five days later John and England's Dan Barton headlined in Palm Springs,CA for the GSBF Convention. 26

A color photograph of Goshin graced the May/June 1986 cover of BCI's Bonsai.
A joint BCI-ABS convention was held July 9 through 13 in Washington, D.C. There were over 500 attendees from twelve countries celebrating the tenth anniversary of the National Bonsai Collection. Headliners included John Naka (California juniper) and Hawaii's Haruo "Papa" Kaneshiro (Chinese banyan).
A letter dated July 29 was sent from the White House to John. "Dear Mr. Naka: Congratulations on being honored by the International Bonsai Congress. You have made an extraordinary contribution toward the understanding and appreciation of the beauty and significance of the Japanese culture through Bonsai, while utilizing native American materials. Your unique talents have brought many honors and I am delighted to see this most recent recongition of your achievements. Nancy joins me in sending our best wishes for continued success. Sincerely, (signed) Ronald Reagan."
The year also saw John and Japan's Shinji Ogasawara make a demonstration tour of Barcelona and Valencia, Spain . John visited Switzerland on behalf of Pius Notter, president of the 2,000-member strong Swiss Bonsai Club and demonstrated on a collected mountain pine. And John visited his old school in Kurume, Japan, donating copies of his two books to his instructor and principal who were still living there.
Volume 2 of a new series of Masters Bonsai Techniques videos featured John carving and refining the dead wood on trunks and branches. The high quality 40 minute tape was produced in Japan, has English narration, and is available through the Internalional Bonsai Arboretum in New York. (On September 6-7, John demonstrated the informal upright design using a Japanese black pine before 200 registrants at the Arboretum's symposium.) 27

John headlined for the ABS Symposium in Nashville, TN June 25 - 27, 1987, and then was one of the international teachers June 30 - July 4 at the BCI Convention in Minneapolis,/St. Paul, MN.
Nina S. Ragle's compilation of 287 proverbs presented in both Japanese and English from John Naka, Even Monkeys Fall Out of Trees, was published. The title refers to the little recognized fact that, yes, even bonsai masters can make a mistake. Nine line drawings by John and sixteen by Jamie Lee Sugarman illustrate this book covering the philosophy behind many of the techniques.