In the spring of 1975, John gave a workshop hosted by the Hukyu Bonsai Society in Tampa, FL. Early April saw him in at the Federal Plant Introduction Station in Glenn Dale, MD a few days after the arrival of the fifty-three bonsai from Japan as the bulk of that country's Bicentennial gift to the U.S. (The previously year both John and Yuji Yoshimura -- see below -- had expressed their willingness to serve as advisors and to assist in the training and maintenance of the collection. This provided additional reassurance to the directors of the Nippon Bonsai Association that the collection would be properly cared for.) John walked through the collection with curator Bob Drechsler giving suggestions. John pointed out that several of the jin (dead branches retained on trees) needed treatment with the preservative lime-sulfur to intensify their whiteness. After John left, Bob obtained the lime-sulfur and painted the jin -- which promptly turned them yellow-orange. Being relatively new at caring for bonsai, Bob was horrified at the color. But after a few days, the jin turned snowy white as they should be. Relief!
In May John was awarded the Massachusetts Horticultural Society's Thomas Roland Medal for his untiring and generous efforts for over 25 years to spread the knowledge of bonsai throughout the U.S. and for bringing this field of horticulture to a superior degree of art and refinement. Later John was a demonstrator at the July 2-6 Bonsai Clubs International Convention in Miami Beach, FL where he gave a "chalk talk" in his superb sketches.
The 23-tree all-foemina juniper forest which John created in Pasadena in 1974 was won in a raffle by Art Hellberg of Santa Barbara. John allowed the forest to be raffled on the condition that sensei be allowed to keep it for a year and nurture it. With John's out-of-town commitments of spring and early summer, the forest had grown prodigiously without attention. The master had to spend approximately six hours giving it a "haircut" and rewiring it. (Think how much time that would have taken an amateur...) Also, he said, two of the smaller trees had needed to be replaced. Finally, on September 6, 1975, coinciding with one of John's regular expeditions to the Santa Barbara club for classes, the forest arrived. The local newspaper had sent a photographer to record the event. John had chosen 23 to be the number of trees, commemorating his age when he first met his wife, Alice, who was also there for this long-awaited occasion. Transported to its new home following the afternoon class, the forest -- and site -- received final approval from John.
Then the first Australian National Bonsai Convention and Show was held between October 31 and November 2. The Guests of Honor for that were John Naka and Yuji Yoshimura. The previous year at the BCI Convention in Pasadena, John was invited to come to Sydney by Rita Cromarty, David Rich and Zillah Willmott, all foundation members of the Australian National Bonsai Association. Down Under, John worked extremely hard giving demonstrations and workshops all over Sydney. Waiting at the airport for his departure, John was asked by Zillah for permission to make a portfolio of his sketches that he had done at the workshops. The sensei readily agreed, and when pressed for written permission, he signed his authorization on the only material they could find at that late hour -- the inside of an empty cigarette packet. The resulting 500 copy limited edition of 52 of John's sketches proved very popular.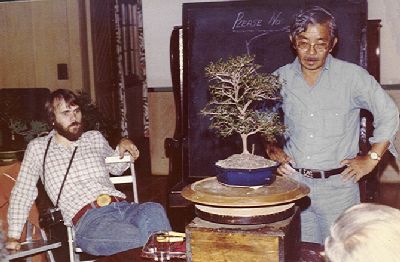 Alan Walker and John Naka, 03/25/76. (Photo courtesy of Alan Walker, 05/11/07)

John was one of twenty-two contributors of articles to the BBG's 1976 Bonsai For Indoors handbook, which was edited by Constance T. Derderian. "Pruning Can Make the Difference" (pp. 26-29) includes nine line drawings by Naka.
The official dedication ceremonies took place in Washington, D.C. for the bicentennial gift of 53 bonsai from Japan to the U.S. During the July BCI Convention which was held in conjunction with this, John Naka styled a buttonwood bonsai. July 29 through August 1 in Philadelphia, PA John headlined the ABS Symposium.
On November 20, a display was held at the Museum of Modern Art in Caracas, Venezuela put on by the Club Venezolano de Bonsai. John Naka and Jorge Lucero demonstrated. Over three thousand people visited the first day. The display was also covered by live TV. John also taught in Peru this trip. 19

The National Bonsai Collection Guidebook was edited by John and Yuji Yoshimura in 1977. John opened and closed the BCI Convention in Chicago with lecture/demonstrations on July 6-10. John's second trip to Australia was made this year, and after 2 weeks in Sydney he went to Melbourne, Victoria for a week.
Between Feb. 10 and 12, 1978 John led the Houston Bonsai Society thru all phases pertaining to the creation of good bonsai. For the lecture-demonstration John worked on several different plants, including Japanese yew ( Podocarpus ), azalea, holly, and juniper. All of the critiques and workshops were full, the latter using both collected and nursery stock for their materials. This was the second year in a row that the Society brought the sensei to Houston for a workshop.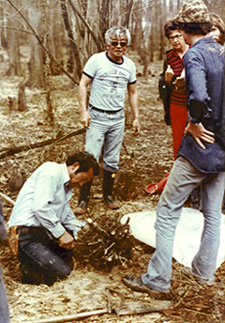 John Naka and Ben Oki at Lake Catahoula in central Louisiana, 03/78.
(Photo courtesy of Alan Walker, 05/11/07)



At the BCI Convention this year from July 19 to 23 "Bonsai Country" in Portland, OR, Toshio Saburomaru and John were the guest artists.

John was elected president of Crane Products, a Pico Rivera, CA importer of Kaneshin hand-crafted bonsai tools from Japan.
At the joint 1979 BCI-ABS Convention from July 4 to 8 in New York City, Yuji Yoshimura, John Naka, and retiring Frank Okamura of the Brooklyn Botanic Garden were the guest artists. The proceedings included a number of programs for Spanish-speaking attendees from Central and South America, and an "Open House" at the BBG and the Japanese garden there.
A third trip to Australia was made this year and this time he took in Brisbane, Queensland. A second portfolio of his workshop sketches was produced. One thousand copies were printed, sampling from both the 1977 visit and this one. Today both Australian portfolios are still sought after, but they are no longer in print. John was the first bonsai artist in that country to take a large old tree and turn it into the "bones" of a bonsai. It was John's dramatic personality and his ability to make his hosts and other workshop participants all comfortable in his company, making for a memorable bonsai experience for them all. Because of John's great popularity there, Australia was able to bring other masters from the U.S., such as Melba Tucker and Khan Khomai.
The year saw John's collaboration with Richard K. Ota and Japan's Keko Rokkaku to present Bonsai Techniques For Satsuki.



In the spring of 1980 Naka-san demonstrated with Italian cypress trees and discussed Japanese horticulture at the Mitchell Park Pavilion before more than 100 persons. This event was sponsored by the Milwaukee, WI Bonsai Society and Milwaukee County Park System. An article in the Milwaukee Sentinel covered half a page and included two b&w photos of John in action.
"Bonsai -- A Bridge to International Friendship" was the theme of the July 3-6 BCI Convention in Honolulu. Japanese grand master Saburō Katō headlined with John.
John's first lecture/demonstration in South Africa occurred in October. For most of that month he amazed audiences and won friends with his engaging and often humorous style in Johannesburg, Pretoria, and Cape Town.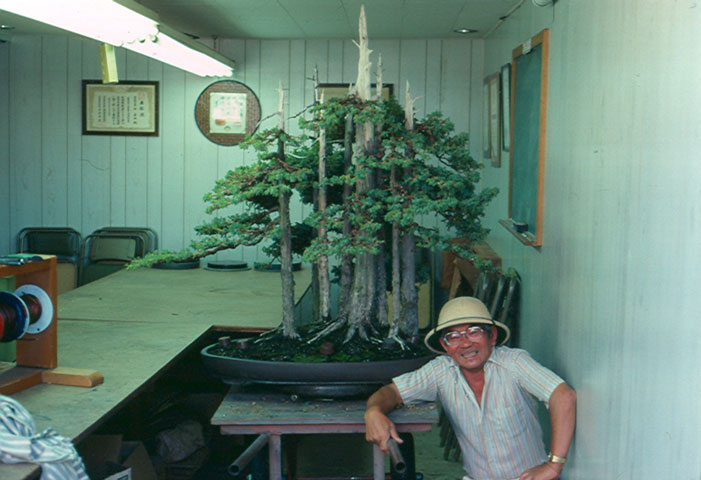 John Naka and Goshin, 1980. (Photo courtesy of Alan Walker, 05/11/07)

John visited the bonsai nurseries in China in 1981, noting the larger general size of the trees (because of display in larger gardens, shrines and courtyards), the less defined shapes and styles (due to a lack of knowledgeable teachers) and the beautiful, well-designed antique pots "just as I dreamed they would be." On this tour -- which John led -- the group also stopped in Hong Kong to view the personal collection of Yee-sun Wu, and then went on to Japan to attend the National Satsuki Exhibition there. 20
John also visited India that year, conducting demonstrations and workshops using native trees of that country as part of the 1st Bonsai Week of the two-year-old Bonsai Study Group of the Indo-Japanese Association.
With Yuji Yoshimura, John headlined for the Atlanta, GA ABS Symposium July 9 through 12.
And the Golden State Bonsai Federation Convention in San Diego from Nov. 13 through 15 saw John as the principal artist.
He returned to Caracas, Venezuela in the same year.

Back to Top
---
---
Home > John Y. Naka