And Murata began to assist Masakuni I (Shichinosuke Kawasumi, 1880-1950) in developing additional tools for bonsai. A well-known manufacturer of flower arranging scissors and medical-use cutting tools, Masakuni in 1919 had established a company to carry Japanese bonsai tools. In the early 1920s he invented the first shears specifically designed for use on bonsai, and a little later came out with the epoch-making concave cutter. (Previous to this time ordinary garden shears were used to prune bonsai.) Several Masakuni tools (wire cutter, turntable and jacks, etc.) are still known as "Kyuka Type."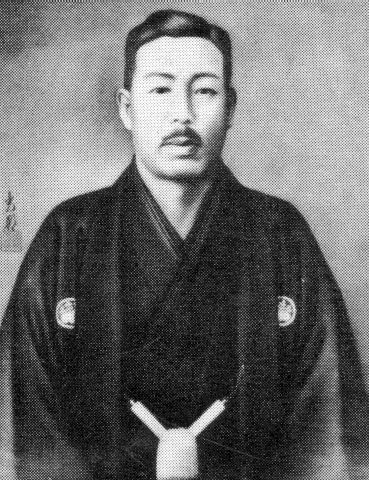 Masakuni I
(International Bonsai, Autumn 1979, back cover)




"Until the Meiji period, the tools used by bonsai craftsman were the same as those used by gardeners [although a few improvised implements may have been employed. Masakuni then] took custom orders from Akimoto Tsutsuji-en in Angyo, Saitama. The initial request was for a pair of pruning scissors that kept the strength and durability of gardening tools, but were lightweight, fine and able to cut branches and roots. The master craftsman Masakuni bought several hundred bonsai to test out his designs. The discarded prototypes are said to have been in the hundreds and filled 3 fruit boxes. The final designs became the prototype for the scissors we use today. Orders from other professionals for wire snips and trunk benders began to arrive and through the meeting of the intelligent and technically minded Murata, all manner of bonsai specific tools came into being. Long-handled pruning scissors, root pruning scissors, concave cutters, pliers, jin carving tools and powerful trunk bending jacks were all new products to the bonsai world."


Kyuzo Murata came to serve the Imperial Household in Tokyo in 1931, caring for their magnificent collection of bonsai.

In early December 1934 the second Kokufu-ten bonsai exhibit was held at the Tokyo Metropolitan Art Museum. Murata had a tree on display at that event.
The April 1937 (Vol. 22, No. 4) issue of the Japanese horticultural magazine Jissai Engei (Practical Horticulture) carried an article by Murata entitled "Bonsai to konshoku suru sanso no baiyo hiketsu" ("Secret technique of culturing mountain grass which is planted with bonsai tree").
The following year, Murata exhibited one of his early creations, a thirteen-tree Ezo spruce group planting from collected material. 2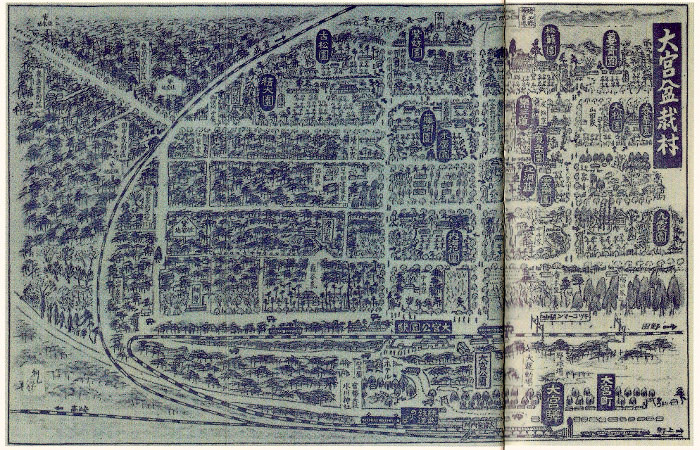 Guide Book of The Omiya Bonsai Village, c.1935;
Kyuka-En is at the center of the right hand edge.
(The Story of "Bonsai", The Omiya Bonsai Art Museum, Saitama, March 21, 2014, pp. 19-20)




(In 1940, Ōsato village merged with other villages to form Ōmiya city. Also this year, the main hall of the Hikawa Shrine was rebuilt.)

The bonsai growers at Ōmiya were just beginning to become prosperous again -- most had resettled there from Tokyo two years after the great earthquake of 1923 -- when World War II broke out. The military draft and the emphasis on raising foodstuffs reduced the number of Ōmiya growers from a peak of twenty-three families in the late 1930s to one, Murata. Tomekichi Kato (Mansei-en) and Seian Shimizu (Seidai-en) recommended Murata for head of the town-block association of Bonsai-chō (Bonsai Village) to trust him with the future of bonsai. At that time, a head of a town-block association was not commandeered for war service.
Although his health made Murata immune to the draft, local officials ordered him to forget about bonsai -- which required full-time care if they were to survive -- and get busy growing rice. He appealed to the general in command of the district, a family friend who was named Hisaichi Terauchi (whose father, Masatake Terauchi, was the 18th prime minister of Japan and also a general of the army). Gen. Terauchi countermanded the local officials' order with the characteristically Japanese dictum that "bonsai show the importance of the unimportant." (His words might also be translated as "bonsai shows the use of the useless.") Murata was free to give his bonsai all the attention they needed.


He collected and preserved as many as he could get together from other growers, and got permission to store and house them on his garden plot in Ōmiya.
A large number of outstanding trees handed down for many generations -- but not cared for by Murata or a very few other growers elsewheres -- were apparently lost in the fiery Tokyo air raids. To minimize care requirements at Ōmiya, the bonsai were removed from their pots and planted in the ground. Watering was done late at night. 3

Immediately after the Pacific War, the luxury tax on bonsai was so high that it nearly caused the disbandment of the growers at Ōmiya.
"[W]hen the war ended, Murata had no money to keep his garden growing and no customers to buy his trees. He was on the point of taking up some other occupation when, on a November afternoon [Saturday the 24th] in 1945, fate intervened. A jeep containing Lt.(j.g.) Leo R. Ball, of the U.S. Navy, and John R. Mercier, a newspaper correspondent from Washington D.C., drew up to his garden gate. They were horticultural enthusiasts who wanted to see the famous bonsai village. After they spent several hours in knowledgeable admiration of the beauties of the garden, Murata took out his Visitors' Book, which had been unopened in four years, and asked them to write in it. Both men wrote glowing tributes to the garden's beauty. When Murata had their inscriptions translated, the warmth of the messages left by his country's recent enemies gave him heart to carry on his work a little longer. Gradually, as more visitors came, he began to prosper."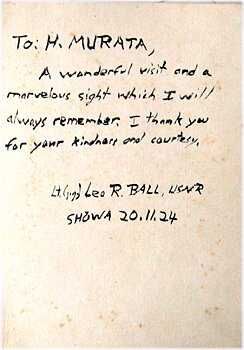 During the Pacific War, the shortage of fertilizers and even of water affected the Imperial Palace's Collection -- which numbered over 3,000 specimens prior to the war -- as well as those almost everywhere else. Some trees outside of that Collection perished because of this, and many others inside and outside were almost killed off. Murata did his best to revive the heavily damaged collection. 4
In 1947, the Ōmiya Bonsai Association was officially established. Kyuzo Murata was its first leader.

From 1949 to 1955, Murata was chairman of the Nihon Bonsai Kumiai (Professional Bonsai Gardener's Association of Japan).
He was often in contact with Toshiji Yoshimura, a prominent bonsai and suiseki artist from Tokyo. At one point, Murata's wife Fumi introduced a lovely young Ōmiya lady, Kazuko Nagano, to Toshiji's son, Yuji. On March 11, 1948 Yuji Yoshimura and Miss Nagano were married. (Yoshimura would go on to make his mark in the bonsai world outside of Japan.)