INDONESIA


"Flora"
(Set of 2 stamps, issued March 1, 1990 )
Per Scott 2003 Standard Postage Stamp Catalog (Vol. 3, pg. 819), 75r is a Mammilaria frugilis cactus and 1000r is Gmelina ellipitca [sic] as shown below, also as a souvenir sheet.
Image courtesy of Marc Zimmerman in e-mail to RJB, 01/22/03.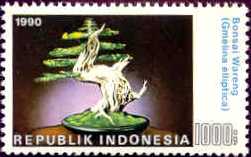 1000r, Gmelina elliptica
---
---
Home > Bonsai History > Bonsai Stamps > Indonesia Stamp