JAPAN



"16th UPU Congress, Tokyo"
(Set of 4, issued October 1, 1969)
Per Scott 2003 Standard Postage Stamp Catalog (Vol. 4, pg. 40), four ukiyo-e prints. One of the stamps includes bonsai as a decoration and is shown below.
Image courtesy of Marc Zimmerman in e-mail to RJB, 01/22/03.
"Bonsai"
(Single stamp, issued April 6, 1989)

The actual area inside the gold border measures 25 mm x 32 mm. Said to have been a Shimpaku juniper, but per personal e-mail to RJB from Yukio Murata, 12/24/2004, this is a goyo-matsu. Mr. Teruo Kurosu received the Prime Minister Award at the 30th Sakufu-Ten for this tree, which was also on the cover of the 2005 January issue of Bonsai Sekai.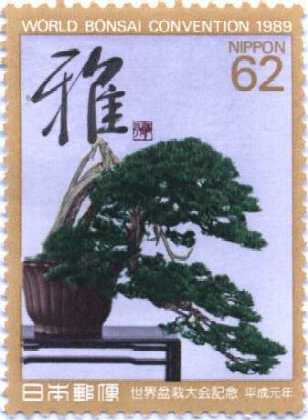 62 yen Goyo-matsu (Five-Needle Pine)
World Bonsai Convention in Omiya, 1989.
"Bonsai"
(Single stamp, issued April 26, 2002)
Per Lorenzo Sonzini in e-mail to RJB, April 2, 2003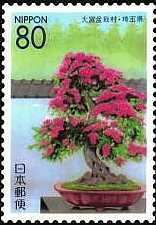 Hawthorn bonsai, an 80 yen stamp issued from Prefecture Saitama to commemorate Bonsai Village


---
---
Home > Bonsai History > Bonsai Stamps > Japan Stamps